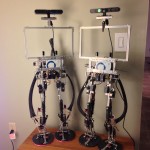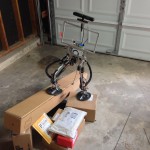 My wife and I had our first baby Lily Grace Reynolds (not pictured).
It has been an eventful 4 weeks of evenings after work to finish building him, but cSpring beta is ready to ship.
We are sending extra beams, brackets and bolts along with cSpring for expansion.
We are also sending a battery with a charger, but we recommend a power supply with a current limiter for the alpha version of the Cognitive Shield. (ask Boeing what happens when lithium ion batteries short out)
We will launch a kickstarter campaign in a few months when we finish the beta design of our new cognitive shield.
The new shield will have a current sensor for detecting large pulls on the battery and will automatically shut off the battery if it senses that.
After that we will launch another campaign for cSpring beta.
We are in the process of hiring our first employees to help with building robots now so that I can go back to feeding our little girl in the evenings.